I can't make a series about songs that are underrated, without making a list of songs that were great at their time, but so well ahead of their time that people didn't quite get their greatness and are now mostly forgotten. Great gems that everyone should know about, songs that you definitely know, but haven't listened to in many, many years. View counts are correct for July 2022
As a sidenote, I prepared this article since April, but didn't publish it until now. Of all the songs below, only "La Sovata" racked about 4000 more views, while the others getting only 200-1000 more views each in about 4 months.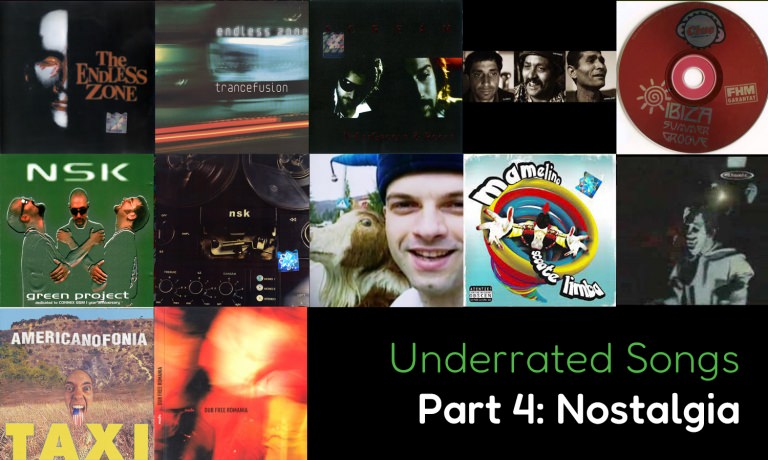 Endless Zone - Pleaca
Published Apr 12, 2013 • Views: 936
This version has only 908 views. It's a chill mix of the version that hit the TV stations, it appears on the 2005 Trancefusion album and features the brilliant saxophone of Alexandru Simu. This was a supergroup in the making, with Adrian Barbor, Catalin "Tobi" Neagu and John Mitzalis at its core
The Endless Zone feat. Camelia - Schimbare
Published Jul 8, 2007 • Views: 22,739
I've added another Endless Zone video, because they were so great and not many people know of their existence in 2022. This song currently sits at about 22K views, but I added a version in better quality that has only 665 views.
N-Eat Groove and Rocca - Scream
Published Jun 1, 2010 • Views: 41,854
Released under the name "N-Eat Groove", this song is a massive collaboration between legends producer Bogdan Popoiag (UNU', ROA) and vocal Rocca (Firma)
NSK - Jalnique
Published Feb 23, 2010 • Views: 7,150
*Released in 2000, NSK was something that turned out to be a supergroup, Matze, Electric Brother, DJ Vasile are each a legend. All together? Voltron-level awesomeness.
NSK featuring Mara - totul vine de la sine
Published Apr 12, 2009 • Views: 87,520
What happens when you add a great voice to an already-great group? One of the best electronic Romanian songs. Even if the thumbnail is the same as the video above, this one if from their following album. Just press play.
Nemos - Mir
Published Jun 30, 2013 • Views: 3,707
Nemos was a project formed by Dan Handrabur and Lucian Stan (aka DJ Vasile), ages before they rejoined on Shukar Collective. "Mir" is one of their greatest hits, even becoming the sound of a TV commercial back in the day.
SHUKAR - the bread's song
Published Nov 20, 2009 • Views: 73,726
Super group Shukar Collective hit millions of pageviews and had live concerts around the world. Here's a goodie from the original trio: Tamango, Napoleon, Clasic.
Taxi - Cortina de fier
Published Apr 10, 2013 • Views: 10,750
Opening their 2001 album, "Americanofonia", this is composed by legendary bass player Adrian Borțun and guitarist George Pătrănoiu. And it sounds nothing like Taxi.
Cindy Cat - La Sovata
Published Dec 5, 2018 • Views: 46,399
Every Romanian knows this song, but no one really plays it unless they're at a party and they're "nostalgia 90s music"-level drunk. Released in 1997, still haunting us "unde face Nicu armata".
Mamelino - Scoate limba
Published Jul 4, 2008 • Views: 179,327
At a bit over 175k views in about 14 years, this is also a song that most of us remember. As a kid, I laughed at it for being crazy and having silly lyrics. Now, that I'm all grown up, I can see the influences in there and how the Romanian market was not yet prepared for this level of awesomeness. The lyrics are still wtf. One of the members of this project was Adrian Barbor, one of the masterminds behind Endless Zone
Paranoia - Vino cu mine
Published Aug 22, 2006 • Views: 36,299
Before Mamelino was born, Adrian Barbor and Vlad Ghilvaciu aka Duţu were building a weird project, called Paranoia. 1998 Romania was not ready for something that looks (and sounds) like a fusion between Aphex Twin and Aphex Twin's not-evil twin, and it's something that would still make the raves go wild.
MICHI - Stele
Published Jun 22, 2008 • Views: 40,634
Mihai Campineanu aka Michi is one of the best and greatest names on the Romanian electronic scene. While not being busy being half of the core of the best electronic Romanian band, he's also dropping legendary tunes.