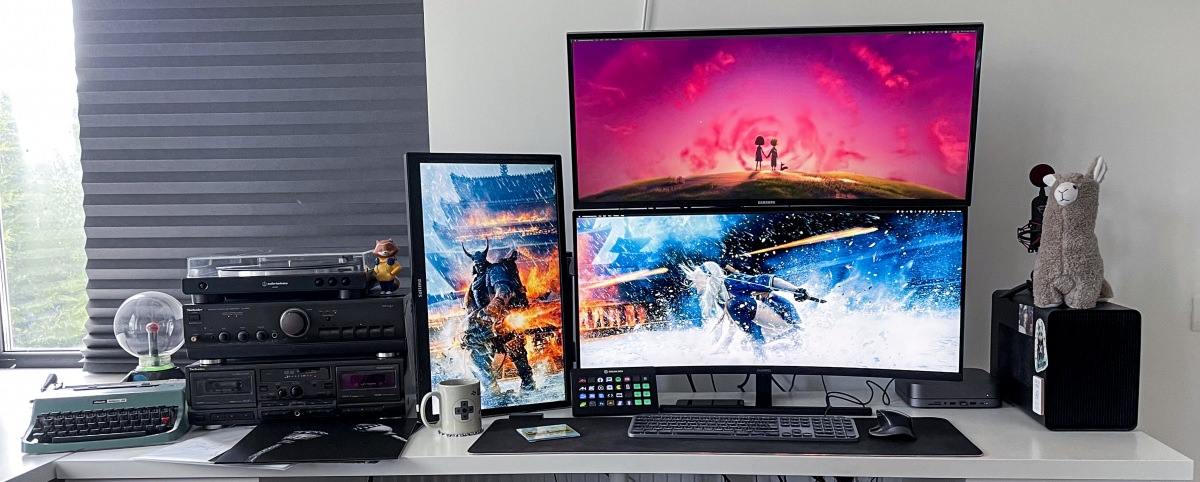 Some developers write about their JS shit frameworks that they use, about the one time they bought some cherry switches from Aliexpress, or about the fact that they use tiktok, factorio and shit. I don't want to make an exhaustive list because that's, well, exhausting. So here's a list, far from complete, about the devices and things that mean a lot to me. No, I won't list software, nail clippers, hair trimmers or what body spray I use. Nor I will ask you for money.
Daily drivers
2018 (Late) Mac Mini - EveryMac - Daily driver since I got it, it's a powerhouse and has more than enough power for another few years. The display part is taken care by Samsung SE790C & Huawei Mateview GT - Dual 34" curved monitors and a portrait Philips PHL254V5 mounted on an Ergotron LX Dual stand.
2013 (Late) Retina MacBook Pro - EveryMac - Spent top money back in 2013 for this, but i still use it on the go. It's fast enough for most work stuff, perfect combination of screen size and battery life and enough ports to connect pretty much anything to it. 10 years old and still better than most of the laptops in the store now.
2021 iPhone 13 Pro Max - EveryMac - Upgraded last year from an iPhone XS, friendly companion when waiting for a train, to listen to music, to order a cab or to film at some concerts, because the video quality on this is amazing. Check some of the videos I made in the new videos page
2016 Apple Watch Series 2 Steel 42mm - EveryMac - Been using this for over 4 years now, since I got it from Andy as a gift. Battery is still holding pretty strong, I'm charging it every other night.
1960s Olivetti Lettera 32 - This is my newest addition to the list, I'm not using it every day, but I plan to use it more, and try to write more on it.
2019 Audiotehnica AT-LP60X pickup with a Technics SU-A600 Amplifier. I know they're not top notch, but they're more than fine for me to enjoy my record collection. I also use a 1978 Sony PS-212 turntable every now and then.
Used less often
2018 Huawei P20 Lite - Testing stuff on Android, playing nonogram games on the shitter.
2016 iPad Pro - the first pro with a 9.7" screen, and first generation Apple Pencil. I load it up with TV shows and I take it with me when I'm too lazy to carry a laptop.
1993 Technics RS-TR575 Cassette Deck when I'm feeling more retro and want to listen to some tapes.
Very rarely used
I sometimes play on an Xbox One, or randomly pick a gadget from my collection and spend some time with it.
Other
I don't have plants. Well, I had a potted Christmas tree, but I forgot to water it. Also, no, my dog is not a /uses/ thing. Stop being silly.