Movies
A shy student trying to reach his family in Ohio, a gun-toting bruiser in search of the last Twinkie and a pair of sisters striving to get to an amusement park join forces in a trek across a zombie-filled America.
Nerdy college student Columbus (Jesse Eisenberg) has survived the plague that has turned mankind into flesh-devouring zombies because he's scared of just about everything. Gun-toting, Twinkie-loving Tallahassee (Woody Harrelson) has no fears. Together, they are about to stare down their most horrifying challenge yet: each other's company. Emma Stone and Abigail Breslin co-star in this double-hitting, head-smashing comedy.
---
A love triangle emerges around a rock and roll musician, his protege and his wife in 1980s Russia.
Avant-garde Russian filmmaker Kirill Serebrennikov (The Student) returns to the big-screen with a tribute to the early years of Russian rock. Leningrad, in the summer, early eighties. Smuggling LP's by Lou Reed and David Bowie, the underground rock scene is boiling ahead of Perestroika. Mike and his beautiful wife Natasha meet with young Viktor Tsoï. Together with friends, they will change the trajectory of rock n'roll music in the Soviet Union.
---
ASSA is set in Crimea during the winter in the mid eighties. A young musician (Bananan) falls for mobster's (Krymov) young mistress (Alika). The parallel story line involves an 18th century assassination plot.
The film features popular rock musicians of the time: Victor Tsoi, "Aquarium", Zhanna Aguzarova with the group "Bravo", the group "Cinema". Partly because of this, "Assa" became a cult movie and one of the most important movies regarding Soviet rock, as it took underground bands and put them into the mainstream.It's well made, the acting and the story are very good and the music is excellent. Five popcorns and jumps into the Movie Vault.
---
Documentary filmed in last years of Soviet Union in Leningrad and featuring famous Soviet rock musicians.
It's not a traditional documentary, there's no narrator that takes us into the story and backstory of some artists, this is a collection of music pieces combined with some insight on the life of the artists presented. It features some of the best rock bands during the 80s in Russia, Auktyon, DDT, Kino, Akvarium, AVIA. Four popcorns for the documentary, twenty popcorn for the music.
---
Moro returns to Alma Ata to collect money owed to him. While waiting out an unexpected delay, he visits his former girlfriend Dina, and discovers she has become a morphine addict. He decides to help her kick the habit and to fight the local drug mafia responsible for her condition. But Moro finds a deadly opponent in "the doctor," the mafia kingpin who is exploiting Dina.
You take a bit of "Lock, Stock and Two Smoking Barrels", you add a bit of "Trainspotting", you set them in the 80s, you mix in some Communist regime, the great presence, acting and music of Viktor Tsoi and you get one of the best Russian movies out there. Six popcorns and a must watch masterpiece. Six popcorns and jumps into the Movie Vault.
---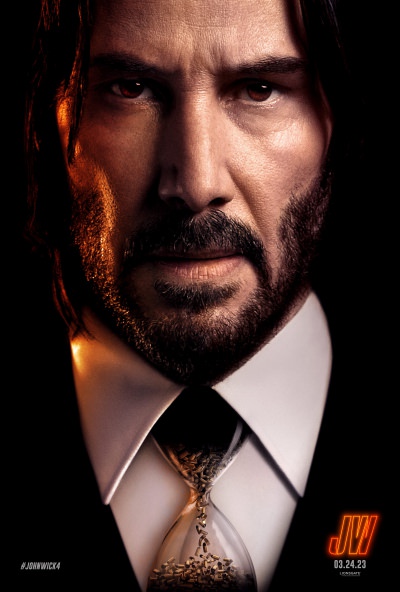 🍿🍿🍿 / 5
IMDb

Link
John Wick uncovers a path to defeating The High Table. But before he can earn his freedom, Wick must face off against a new enemy with powerful alliances across the globe and forces that turn old friends into foes.
What do you get when you give Keanu Reeves an unlimited supply of ammunition? Almost 3 hours of pew pew. While the moviee has good cinematography, I think there's too much shooting in it. Anyway, it gets three popcorns because Hiroyuki Sanada is in it.
---
An American-led team of International astronauts leave their space station on the first mission to Mars, but the captain's religious beliefs may get in the way.
Good space fiction movie set into a close future. It's nice how it got some of the things the future way off while some are very close to reality, but it's amazing, keep in mind this is made in 1955. Judging by 2023 standards, it's not an impressive movie, but it's a good visionary sci-fi. Four popcorns.
Set your gyros for Mars.
---
Three scientists help an Alien feline, stranded on Earth, to repair its damaged spacecraft in order to return home but their efforts are hampered by inept army officials and foreign spies.
It's a fun family movie and it's lovely to see into action the commanders from M*A*S*H, McLean Stevenson (Henry) and Harry Morgan (Colonel Potter). Five popcorns.
---
The European Space Exploration Council sends two astronauts to explore a planet similar to the Earth but located on the opposite side of the sun.
Excellent movie, with a ton of retro-futurism porn. The story is nice, even if a bit predictable, but it's a solid movie, featuring The Outer Limits vibes mixed with Star Trek: TOS. Six popcorns and jumps into the Movie Vault.
---
A beacon draws them to the edge of space and time, but once they arrive at the long-lost ship, the crew of the Palomino discovers a mysterious scientist and that things aren't always as they seem. Explore deep space in this 1979 Disney sci-fi classic, The Black Hole.
With a budget similar to and success far from Star Wars, this still manages to be a good movie, back in the days when Disney used to do creative and original stuff, It has a great soundtrack, excellent set design, great graphics, good writing and performances, Maximilian Schell (Judgment at Nuremberg) and Anthony Perkins (Psycho) not wasting their potentials. The robots are nicely designed and really fun characters. I know it's fiction and stuff, but the creators of this movie never heard of the concept "hull integrity". While the movie isn't perceived as a masterpiece of some sort, it's a good space movie, a last hurrah of the 70s age, before the 80s kicked in. Solid four popcorns.
---
Baltimore. New Year's Eve. A talented but troubled police officer (Shailene Woodley) is recruited by the FBI's chief investigator (Ben Mendelsohn) to help profile and track down a disturbed individual terrorizing the city.
Shailene Woodley (The Fault in Our Stars, Divergent) and Ben Mendelsohn (Rogue One: A Star Wars Story, The Dark Knight Rises) come from two completely different backgrounds and form a great crime solving team trying to find a serial killer. The movie is well written, the tension is well-paced and the acting is good. Four popcorns.
---
Trailer contains spoilers. Used alternate poster, because main poster has spoilers. Can be seen
here
.
A man named Zac Hobson awakens to find himself alone in the world. In a desperate attempt to search for others, he finds only two who have their own agenda.
It's mysterious and at times even creepy, and offers a nice insight into what would someone do when they find themselves alone in the world. As I've seen a few years ago "The Last Man On Earth", I know know where that show stole its best parts from. It's about loneliness, human connections and how people feel. While being the first science-fiction film ever produced in New Zealand, it's a great movie, gets five popcorns and jumps into the Movie Vault.
---